Growing up, there weren't too many books about Mexican children, or about Mexican-American children for that matter. The only book that I can remember reading, and the only one that was ever read to me was: Too Many Tamales by Gary Soto.
The story is set during Christmas time, more infamously known as tamale season. It features Maria, a young Mexican girl and her family. Tamale making is messy, so Maria's mother takes off her ring as she prepares the tamales for her family. Curious, Maria slips her mother's ring on, and loses it in the process of kneading the masa. When her cousins arrive, Maria realizes the ring is missing, and so the children go on a quest to eat every tamale in the batch to avoid getting in trouble.
It's a fun narrative, for some. For me, it wasn't. I had no idea what a tamale tasted like, and had only ever helped my grandmother a few times. However, as a Mexican child, who was very aware that she was Mexican and attended a predominantly Mexican school, I went with it. When I transferred schools and attended a primarily white elementary school, I made sure to show off this book. No one had ever heard of it there. No one had read it. The fact that it wasn't renowned at my new school, made me question its validity as a book. Maybe, just maybe, it wasn't a real book at all. Why would it be? All the books were about little white children or were anthropomorphic picture books.
Over the years, I squashed the humiliation and indulged in the classics like the Wayside School book series by Louis Sachar. And while I enjoyed the weirdness, and sometimes the eeriness of the characters (and thanked heaven my third-grade teacher was not this creepy or that my classmates didn't have ears growing on top of their heads), in the back of my mind, I knew there was no book for me. About me.
It wasn't until fourth grade when Mrs. Goodlett read Ray Bradbury's The Halloween Tree, that I felt connected to my heritage again, and in a way that I had never been connected before.
In The Halloween Tree, a boy named Pipkin is on the brink of death with appendicitis and misses his favorite holiday – Halloween. His loyal group of friends and avid trick-o-treaters are then met by the neighborhood's mysterious neighbor, Mr. Moundshroud. Mr. Moundshroud is the only one who knows Pipkin's whereabouts (it's not the hospital), and invites the boy an an around-the-world adventure on a magical kite to find their friend and the meaning of Halloween. (Spoiler alert: It's not just about candy and capitalism!) 
In one chapter, the boys chase Pipkin's spirit through Mexico and learn about Dia de Los Muertos – The Day of the Dead. As a young reader, I had never heard of this holiday myself, but like the boys in the book, I was just as passionate about ghosts and ghouls and Halloween. I wanted to learn more, not just about Dia de los Muertos, but every culture's celebration of death.
To this day, I thank Bradbury for writing this book, and to Mrs. Goodlett, a woman of color herself, who knew how important inclusion at a young age is. Because of my early exposure to cultural diversity, I became more understanding of my own heritage and accepting of others. But more than that – I felt validated. This was a real book.
However, the books available to young Mexican me were still scarce. While most tenth graders were reading Like Water for Chocolate, I was reading The Body of Christopher Creed. Unfortunately, it wasn't until college that I came across the works of Sandra Cisneros. All the books prior to that had been about – well, as you guessed it – centered around white children and their troubles. My experience from this young adult quilt was a missing patch. So as a young creative writer, who now had some agency to write about being a Mexican (thank you, Cisneros), I made certain that every one of my characters would be Mexican, or at least of some Hispanic descent. I needed to see me in more than a few dozen books, and I knew readers like me also needed a voice.
Just recently, I pitched a novel where the main character grapples with discovering her more "authentic" Mexican heritage. Like me, she is white-washed, but like me and many of us who were sheltered from our heritage because of our surrounding communities, she is curious and open to discovering who she is. And while I love my novel because its such a large part of me and my upbringing, I worry that people will not find it immersive enough.
However, diverse books are just that: diverse. Not all Mexican narratives will be, nor should they be the same. Every person from every ethnicity has a unique experience that cannot be retold. There are bound to be shared similarities, but the voices will all be distinct, and as readers and writers, we should be open to that.
In the movie industry, viewers are arguing that there can only be ONE movie surrounding Dia de los Muertos. The Book of Life is the end of all Dia de los Muertos movies. Cocoa is irrelevant. "We have one of those already," viewers say, "why do we need to be bombarded with another?" I find this argument completely fallacious as it doesn't recognize the larger argument: we need more than one voice of representation. We cannot simply reduce representation to one speaker and one speaker alone. Themes aside, the movies have extremely different premises and we should respect them equally, as we should respect the various perspectives from which all diverse books are written.
Today I am reading Erik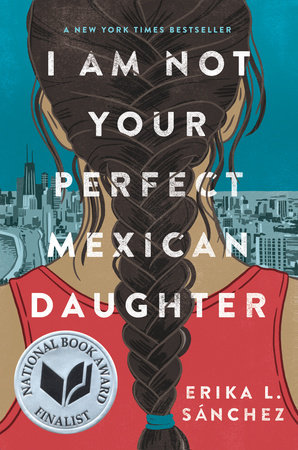 a L. Sanchez's New York Time's Best Seller, I'm Not Your Perfect Mexican Daughter. And let me tell you, there is so much of me in Julia Reyes that within the first 10 pages, I was squealing with delight. Where was Julia when I was growing up, attempting to straddle two different worlds? Attempting to escape being coddled from my mother and watching my perfect younger sister be the golden child of the family? The important thing is, I have her now, and so do others.
Of course, there are so many parallels between Sanchez's book and my own, that I worry about people repeating the argument: why do we need more than one of that kind of book?
Children and teens need more than casual encounter with a culture. They need varying perspectives. They deserve to have the freedom to choose whose style of writing they admire, and find their story. They shouldn't have to be like the majority of us, growing up ashamed, waiting to be validated.